Some of the advertising used over the years by the model kit companies is almost as interesting as the kits themselves. Catalogs, store banners, box art paintings, etc. have become a form of American Folk Art over the years. Dismissed in their day by most legitimate artists, the artwork has become something of a window into American culture of the past.

Monogram in-store Christmas banners
All SOLD
Hobby store banners and signs

Uncut model kit boxes (aka "wraps")

Various model kit company catalogs from the '50s-'80s
Single Sell Sheets used by sales reps and distributors

Promotional photos for 1950s Revell car kits

3 Revell figure kits that never saw the light of day. If it had been produced, I imagine the Prince Valiant kit would be worth some bucks today.
Two protytpe boxes never used. SOLD SOLD SOLD
Various catalog and box art paintings

-SOLD
An extraordinary boxart painting. Done by Stan "Mouse" Miller, who became famous in the late '60s for his rock concert posters, most notably those for Bill Grahams Fillmore East and West venues. This rather large painting of Superfuzz, from the Fred Flypogger series by Monogram, is oil on canvas stretcher. The flyer in the bottom lefthand corner is an announcement for a Fred Flypogger contest from 1965.
Tom Daniels original sketch proposal for the Sandshark. He suggested this kit to Monogram as an update to the Dog Catcher. You can just barely read the "T.D.'75" under the front end of the car.

SOLD
Pre-production Composite boxes used for the Toy and Hobby Shows
Early model magazines and trade publications from the "Golden Age" (late 1940s-early 1970s)

The prototype box and decal sheet for the original version of the #90 T-bird combo. The Bullseye car was eventually replaced with another car due to licensing problems.This item is for sale. Price $100. Inquire for details.
A sampling of literature from some of the fabulous Dreamcars of the '50s and '60s.

An airbrushed sketch done at Ford Motor Company. It appears to be some sort of dreamcar with obvious elements of Ford cars yet to come. It's dated July 2,1954.The sketch was found under a chest of drawers at the house of a designer who worked at Ford during the 1950s. He had just discarded a box of drawings the week before and this one had been overlooked. What a pity!

Some favorite boxcovers from the '50s

Ed Roth cardboard display mobile from the mid-'60s- SOLD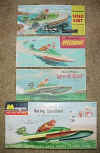 Evolution of a box design. The 3 color sketches show various ideas considered before the final box art was chosen for this 1950s Monogram kit.

Some of you may remember this paperwork from the AMT Turnpike Slot Car racing set ca.1962.
The classic, hilarious article from National Lampoon, October 1974, entitled FIRST MODEL CARS. The conversion '57 Ford was apparently built by Alan Rose and Marc Arceneaux. Great modeling! I wonder what ever happened to them?

SOLD
An 8 1/2" x 11" envelope from the Darryl Starbird Studios. I would guess he was using these fairly early in his career.
A letter I received from Budd Anderson at AMT back in the early 1960s. He was responding to my request for some sheet plastic.